Martignetti Companies of New Hampshire, a representative of various wine and spirit producers, prides itself on providing customers with the opportunity to learn about and experience fine wines and spirits. When Martignetti decided to do a promotion at grocery stores for the first time, they wanted to develop an alluring sweepstakes that would stand out among the competition and be different than anything they had done before. Martignetti knew that a Segway™ Personal Transporter (PT) would be just the prize to create excitement for their client Kendall-Jackson Wine Estate LTD, the grocery stores where the wine is sold and its customers.

The Program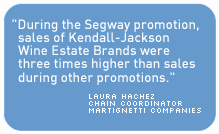 Martignetti implemented a 60-day sweepstakes for Kendall-Jackson in three of New England's biggest grocery chains: Hannaford, Market Basket and Shaw's. Shoppers couldn't miss the colored banners, entry forms and case cards that Martignetti created to promote Kendall-Jackson and the Segway PT sweepstakes. Participation was easy—an interested shopper simply filled out an entry form from the display and mailed it to Martignetti headquarters. No purchase was necessary. One winner was selected from each grocery chain; so three lucky people would win a Segway PT.

The Response
Getting grocery store chains on board for promotions isn't always easy, according to Laura Hachez, Chain Coordinator at Martignetti. For this promotion however, Hachez explained, "all the chains responded without hesitation. They said, 'Yeah we'll do this! This is great!'" Martignetti was excited, as were the grocery chains and now it was time to get the program underway.
Equipped with great marketing material, Hachez said, "the stores got really enthusiastic about the promotion because it was different and wasn't the same old, same old. We got more store displays, that were larger and remained on the floor for longer because the promotion featured the Segway PT."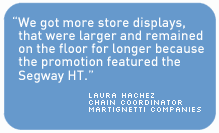 Shoppers shared in the enthusiasm, submitting more than 3,000 total sweepstakes entries, vastly exceeding Martignetti's expectations. Customers who entered even sent letters imploring Martignetti to pick them as a winner. Some also attached their receipts as evidence that they purchased Kendall-Jackson wine, even though no purchase was necessary to enter or win.
The Results
The promotion generated a lot of excitement and produced excellent results for Martignetti and Kendall-Jackson Wine Estates LTD. "During the Segway promotion, sales of Kendall-Jackson Wine Estate Brands were three times higher than sales during other promotions," Hachez explained. "We were extremely excited about (the sales) and the response from the contestants was more than what we expected."
The program helped Martignetti increase sales for Kendall Jackson Wine Estate Brands while providing the grocery stores and its customers an original, compelling promotion. The stores were eager to participate because the Segway PT was a unique and fun sweepstakes prize. Hachez summed it up by saying, "If there is anybody out there that is looking to add a little excitement and do something different to enhance their business, using a Segway PT certainly peaks people's interest and curiosity. It will bring customers to you."

Find out more about how you can put the Segway PT to use for your business!
Whether you are planning a promotion, advertising campaign or an incentive program, the Segway Personal Transporter (PT) can add excitement and visibility to your marketing activities.
Increase participation in sweepstakes, giveaways and other promotions by offering the Segway PT as a fun and unique prize your audience will clamor for.
Attract attention to your trade show booth, sampling efforts or store location by adding a Segway PT to your marketing toolbox.
Stretch your budget further by creating big-ticket excitement with the Segway PT for a few thousand dollars.
Impress your employees, retailers, dealers or customers by rewarding them with a Segway HT—a memorable incentive.
Update your company image by making the innovative, tech-savvy Segway PT part of your marketing and promotional plans.
Call a Segway Inc. Account Manager toll-free at 1-866-4SEGWAY today to learn more about how the Segway PT can get your business rolling.

Kendall-Jackson is a trademark of Kendall-Jackson Wine Estates.